About me
I'm a Senior Engineering Manager with rounded international and multicultural experience used to work in uncertain and challenging environments.
Over fifteen years of professional programming experience.
For 9+ years I've been successfully leading technical teams, combining team management roles with technical leadership in frontend, backend and data streaming technologies.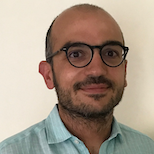 Summary
Ten years experience leading technical teams.
Comprehensive knowledge about client and server architectures, message passing and loosely coupled systems in general.
Deep experience with Python, Ruby, Java and JavaScript.
Cloud environments: AWS and Google Cloud.
TID-X co-organizer.
Experienced Scrum master player during more than five years.
DevOps tools and culture.
Basic knowledge of Erlang and Scala.
Contact
Feel free to contact me at
juandebravo@gmail.com
.